I worked at Gusto in San Francisco, CA, from October 2019 until October 2021.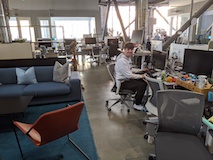 (That's Vincent, sitting at my desk.)
Gusto's San Francisco office is on historic Pier 70, in the old machine shop of Bethlehem Shipbuilding's Union Iron Works shipyard. We got to enjoy a giant gantry crane, rated for 50 tons, suspended above our heads every day. The Historical Society wouldn't let us play with it, though. :-(
I only got to enjoy this office for a few months before the COVID-19 pandemic forced us all to work from home, starting in March 2020.